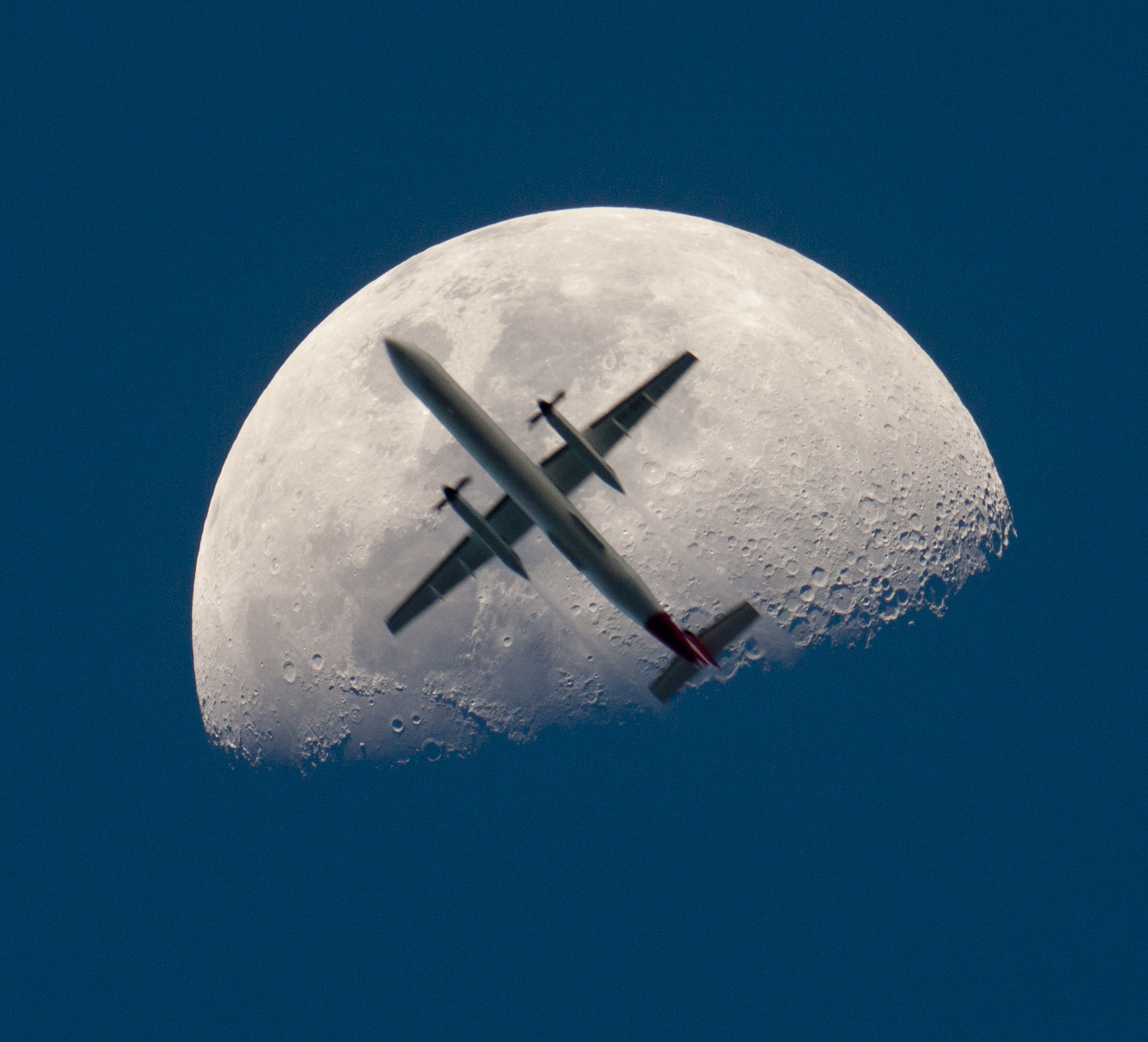 An airplane in front of the moon © Chris Thomas
New Moons signify rebirth, beginnings, a clean slate, the start of a new cycle. This new moon highlights
Aquarius
qualities
(inventive, independent thinking, unconventional, individual growth/evolution)
and 11th house themes
(friendships, group relations, relation to humanity as a whole)
. In Aquarius, the Moon is eccentric, unpredictable, fun, friendly, a risk-taker, and a humanitarian.
The
Aquarius-New Moon
(blending of heart & soul)
squares Jupiter
(opportunities)
, encouraging us to dream big ... but be mindful of actually taking steps towards making those dreams happen. Elsewhere in the sky, Saturn
(reality)
and Neptune
(imagination)
are harmoniously aligned, while Mercury
(thought)
and Mars
(action)
are also linked in a friendly way. This combination of energies may just give us the balance necessary between dreaming and doing, wishing and acting, planning and committing to the work. If you're feeling stuck, the Aquarius-New Moon phase can help get you started with getting unstuck.
This new moon occurs at 3° of Aquarius. Those born within 3 days of January 22nd or July 25th; or have planets/house angles around 3° of fixed signs may experience the effects of this new moon stronger than most.
For me, this New Moon trines my Uranus
(change from the norm)
and as a Virgo-rising, falls on my natal 5th house
(creative projects)
and as a Cancer-Sun, falls on my solar 8th house
(finances)
. After my trip to Quito last fall, I decided that I should learn some Spanish. Now that the holidays are over and with the new moon touching my Uranus, instead of slowly settling back into my everyday norm, I'll change it up a bit by adding some Spanish study time :) This weekend, I plan to tackle getting my taxes done (or at least manageable) so, that fits quite well with the new moon in my solar 8th, too.
How might this new moon manifest in your life? Look to the natal house this new moon will occupy in your birth chart. Match the sign and degree to the sign on the house cusp. Use the list below to identify the Aquarius zodiac sign then
click here to read about the New Moon in Houses
.
Click image to see larger
For those without a birth chart, you may use your Sun sign or Rising/Ascendant sign, if you know it. Look for your Sun and Rising signs below then
click here for an explanation of New Moon illuminating those houses
.
Aries-Sun or Aries-Rising ~ 11th house
Taurus-Sun or Taurus Rising ~ 10th house
Gemini-Sun or Gemini-Rising ~ 9th house
Cancer-Sun or Cancer-Rising ~ 8th house
Leo-Sun or Leo-Rising ~ 7th house
Virgo-Sun or Virgo-Rising ~ 6th house
Libra-Sun or Libra-Rising ~ 5th house
Scorpio-Sun or Scorpio-Rising ~ 4th house
Sagittarius-Sun or Sagittarius-Rising ~ 3rd house
Capricorn-Sun or Capricorn-Rising ~ 2nd house
Aquarius-Sun or Aquarius-Rising ~ 1st house
Pisces-Sun or Pisces-Rising ~ 12th house
Unsure if you have natal planets/house angles on or around 3° of fixed signs?
Cast your own birth chart at alabe.com
for use as reference -- birth date, time, and place required.
For those doing the new moon wishes ritual, the moon will be new on January 22nd at 11:39 p.m. PST / January 23rd at 2:39 a.m. EST and will be void of course on January 25th at 12:33 a.m. PST / 3:33 a.m. EST.
Click here for Jan Spiller's DailyOm.com article, briefly explaining new moon wishes
.
(opens a new window)Related article: New Moon in Natal Houses"An Airplane in Front of the Moon" - Image credit & copyright to Chris Thomas via APOD.